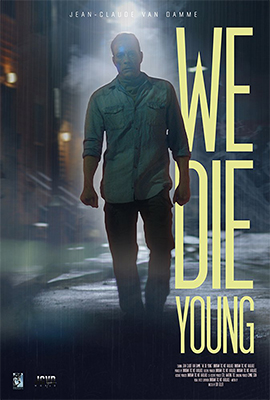 We Die Young is in the last stages of post-production
Midwest's latest movie "We Die Young", by director Lior Geller, is making its home stretch and is due to be released this fall.
The crime-drama with action star Jean-Claude Van Damme marks the feature film debut for the young director, and is based on Gellar's short student film 'Roads' (2007), which has been a real triumph and won tens of prestigious awards worldwide, including the Guinness World Record for Most Awards Won by a Student Film.
The story takes place in the slums of Washington DC, a world ruled by violent gangs and ruthless drug dealers. We get to see what happens to the characters over the course of 24 hours. Lucas, a 14-year-old Hispanic boy, inducted since age 10 into the brutal gang life of a San Salvadorean neighborhood in Washington D.C., is determined that his 10-year-old brother Miguel won't follow the same path. When Daniel (Van Damme – an Afghanistan war veteran) comes into the neighborhood looking for drugs to escape his own reality, an unusual opportunity arises that can change their lives forever. With the help of Daniel, Lucas tries to flee his gang-lord mentor, Rincon.
Geller, who is also the film's screenwriter, spent 7 years of research working with veterans of Iraq and Afghanistan, local DC cops and even former gang members who granted exclusive access into the highly insulated world of what the FBI considers to be America's most dangerous gang.
GENRE:
Fast‐paced crime thriller/drama
LOCATION
Bulgaria
DIRECTOR
Lior Geller
PRODUCERS
Moshe Diamant
Gabriel Georgiev
James Portolese
WRITER
Lior Geller
CAST
Jean-Claude Van Damme
Nicholas Sean Johnny
Elijah Rodriguez
David Castaneda